The Silver Cross Dazzle delivers just what the name promises; a unique, stylish and modern pushchair well known for being favoured by the likes of Jessica Alba, Heidi Klum, and Jennifer Lopez.
Well suited to the needs of growing families, it is suitable from birth to 15kg, or three to four years old, due to the adjustable reclining seat. This innovative feature allows for great cost-per-wear value, making it the only pushchair you and your child will ever need.
The Dazzle is best suited for on-road everyday use, with sturdy four-wheel suspension and a great "umbrella" folding mechanism making it easy for jumping in and out of the car or public transport.
As most new parents will agree, when it comes to pushchairs your child's comfort is an especially important factor. The Silver Cross Dazzle is well loved for its soft interior and custom incline adjustment feature, meaning you can determine the exact angle your child is resting at, from upright to lying almost completely flat. The seat is well-padded and wide, with enough length to accommodate for a fast-growing toddler. The end part of the seat, which is secured upward to keep your baby in a comfortable position, can be transformed into a leg support cushion in later years when they might want to sit up and make use of the footrest. This is just another way the Dazzle accommodates an easy transition as your child's needs change.
The four-wheel suspension system makes for a smooth ride for your little passenger, although it is obviously less suited for off-road, rough terrain. This pushchair comes with a ventilated rain cover, to protect your baby from the weather, while still allowing good airflow. The sun cover is not large, allowing for great visibility, but making it less suitable for very hot, sunny climates. This should not be a problem for use in the UK.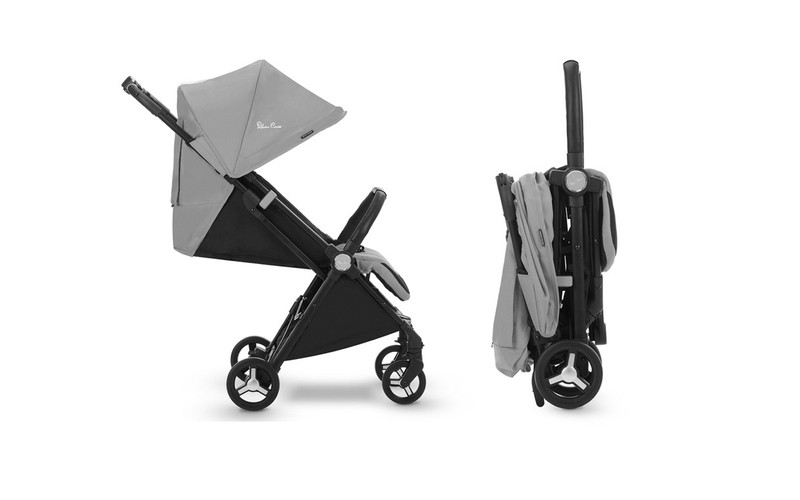 Ease of Use and Maneuverability
Also important when it comes to choosing your pushchair is its ease of use and maneuverability. This is another bonus for owners of the Dazzle, as it incorporates several clever features to make your life easier. Aside from the easy folding mechanism, allowing compact storage and transport, this stroller is made from ultra-lightweight high-grade aluminium which makes it very light (at 6.8 kilograms) for its size. It is very easy and smooth to push, a blessing for both you and your baby.
The chair's retractable hood incorporates a handy viewing window, allowing you to see what your child is doing at any time. The use of magnet fasteners rather than Velcro on the window and rain cover is a nice touch, making adjustments easier and very quiet. This is something to be particularly grateful for when the baby is sleeping!
Silver Cross have incorporated unique "ergonomic" comfort grip handles, sitting at an angle from 100 to 108 centimetres tall. Most parents will find this height nice and convenient, with no stooping required; however, very short statured users may find it more difficult to push. If this is a concern for you, I would suggest measuring the height out yourself to get an indication of its suitability, or seeking somewhere to try it out in person before ordering online.
The shopping basket is of a good size, not big enough to fit an entire grocery haul in but easily holds the rain cover (when not in use) and a couple of bags. The neat design ensures that your belongings are not too visible, although when the seat is in full recline position you will need to readjust any excess cargo so it does not poke through to the back rest.
One minor drawback of the Dazzle is its stiff foot brake- not that this is too difficult to manage, but it can be a bit of a struggle. This is not a major concern, however, because at least you know the brake is on tight and not going to come undone until you're ready to go again! Overall, this is a very well-designed and easy pushchair to use.
As previously mentioned, the Silver Cross Dazzle is constructed from high-grade aluminium which is not only very strong but also lightweight and practical. The seat rests quite low to the ground, well supported by the chair's sturdy base. The wheels are made of rubber, complemented by a smooth suspension system, perfect for use in an urban setting. It is important to remember, however, that this pushchair is not intended for off-road use.
It is worth noting that Silver Cross offers a great guarantee on this product- see the "Customer Service and Warranty" section below for details.
This pushchair features the signature Silver Cross 5-point harness, which is great from a safety and practicality standpoint but also very easy to use. Just connect the waist and shoulder straps, and then click into the round disk in the middle of the harness to secure. This device makes a loud clicking sound when properly fastened, so you can be sure that your baby is safely held in place. Simply press the button at the front of the disk to release.
The Dazzle also features a handy foot-operated braking system on the rear wheels for convenient security. The pushchair frame is locked into place with a double lever safety system- to fold you must first pull the lever at the back, then press another at the base of the rear wheels. This avoids the possibility of an involuntary collapse, as can occur with cheaper models. All in all, this is a very practical and safe pushchair for everyday use.
Extras for the Dazzle including the Parasol, Footmuff and Changing Bag are also available together as a matching accessory pack. This offers better value for money fi you are already considering all three of these items. This pushchair has the from-birth carrycot attachment option which is very nice, but does not currently suit any travel car seat options.
Aside from all these necessary and convenient features, what really makes the Silver Cross Dazzle stand out from the crowd is its unique and stylish look. The design is sleek and simple yet functional, and it comes in a great range of eye-catching colours including Cosmic Black, Fern, Blueberry, Pumpkin, Grape and Silver Grey. The wheels are silver, matching the safety harness and aluminium frame, accentuating the chair's modern look.
It is no surprise, then, that this pushchair is often seen being pushed around by trend-setting celebrities. If you invest in a Dazzle, get ready to attract compliments and turn heads everywhere you go!
Celebrities who use this pushchair include Jessica Alba, Heidi Klum, Marcia Cross, Cate Blanchett, Katie Price, Chris Noth and Jennifer Lopez.
Customer Service and Warranty
The Silver Cross Dazzle comes with an automatic 12-month guarantee, but the great thing is that you can register online for a free extended two year warranty at http://www.amazon.com
This really means that you can rest assured of this pushchair's long-lasting value. Just make sure you register within 28 days of purchase and you will be covered. Silver Cross also offers great customer service, with a friendly and helpful staff that is willing to go that extra mile to assist you.
Summary and Conclusion
All things considered, the Silver Cross Dazzle is a great pushchair and a fantastic investment for the enjoyment of the whole family. It is best suited for those in need of a convenient, adaptable, lightweight chair for use in the home, car, shopping mall and suburban pathways. It will only hold one child, but caters to their changing needs from infancy to the toddler years, making this chair the perfect choice for families not expecting multiple children in quick succession. With the Silver Cross Dazzle you know you can step out with confidence and ease, to enjoy time with your baby in style.
Quick Overview for the Silver Cross Dazzle Pushchair – (Manufacturer Spec)
Suitability:
Birth to toddler.
Up to 15kg / 33.1lb capacity.
Weight:
6.8kg / 15lb.
2.5kg / 5.5lb.
Dimensions:
Folded:
103cm / 40.6in. (H)
27cm / 10.6in. (W)
40cm / 15.7in. (L)
Unfolded:
94cm / 37in. (H)
49cm / 19.3in. (W)
59cm / 23.2in. (L)
Internal:
20cm / 7.9in. (H)
30cm / 11.8in. (W)
73cm / 28.7in. (L)
External:
33cm / 13in. (H)
34cm / 13.4in. (W)
77cm / 30.3in. (L)
Best Features:
Blanket with quilted apron.
Ventilated hood with viewing window.
Includes a stylish ventilated rain cover.
Automatic folding locks.
Ultra compact fold with handy carry handle.
Sleek concealed fittings and shopping basket.
Hi grade brushed Aluminium frame.
Seating:
Adapts to accommodate soft click-on baby carrycot (rearward facing.)
Fully reclining back rest for sleeping (single handed operation.)
Main buggy is forward facing only.
Not car seat compatible.
Handles:
Comfortable and ergonomic design.
Non extending 108cm / 42.5in. high handles.
Wheels:
Suspension on all four wheels ensuring a smooth ride.
6 inch lockable front swivel wheels (self-centering) and 6 inch rear wheels.
Solid rubber construction.