Given that there are many different prams and pushchairs on the market with exceptional features nowadays, it's becoming increasingly harder to know which pushchair will be best for a young family. Britax is one particular company that has been creating excellent quality pushchairs for the public for decades now, and has always been at the forefront of the baby travel equipment industry. With Britax's unprecedented release of the new Vigour pram and pushchair, it makes sense to be taking a closer look into what this model offers.
Although the Britax brand is already well known for it's commitment to quality, comfort and safety, the new Vigour is leaving it's own tracks as one of the best all-round prams and pushchairs on the market. In this complete review we take a look at some of the best benefits this pushchair offers, and try to uncover any possible draw-backs in the process. It is our aim that after reading this review you will be in a firm position to decide whether the Britax Vigour will be a suitable purchase for your needs.
Child's Comfort
The Britax Vigour's design incorporates a very smooth and easy backrest adjustment system for you to use to control your child's resting angle which is a very attractive feature, and almost a must have in a pushchair these days. Although the Vigour is similar to other models in that it allows your baby to lay from virtually flat (although this doesn't quite lay completely flat) to various upright sitting positions, it's the ability to easily change your child's incline position to a wider selection of angles as they sleep (without disturbing them) that is the most unique and impressive. Added to the benefits that come with this seat is the inclusion of an adjustable leg/calf support which would surely come in handy as many children grow. Although the seat is well designed for a wide range of baby sizes, we feel that ideally the seat could have been created a bit deeper than it has been. Also, some of the frame is exposed to the child when seated which could be a minor comfort issue when a young child is slouching off to sleep to one side of the pushchair. This is easily rectified with a small blanket or cushion however and couldn't be considered a deciding factor when looking to buy.
One more particular benefit we found with this model is it's versatility. The pushchair can be very quickly adjusted to suit almost any mothering style and preference, as it allows for not just the main seat's settings to change, but also for the whole seat to be reversed. This great feature means that the child can be seated either facing towards or away from the pusher, which is becoming a very popular option to have on hand. Unfortunately there are not too many pushchairs out there today which offer this great option, and so we think this feature does make the Vigour a more favourable option over-all. This model pushchair may at times be compared with offerings from Bugaboo or Quinny, however it actually has a more spacious seat than both of these other alternatives.
We feel that newborn babies will need to be using the clip-on car seat which is available to suit the Britax Vigour, because as it states in the user manual, the pushchair's main seat that comes with it is not specifically designed for a newborn's full-time use. Plainly, it's probably not going to provide the best support and padding for your newborn baby when compared to a more secure car seat option. To clip one of the suitable car seat options onto the pushchair, you will need to remove the existing main seat, but this is not a problem as the pushchair incorporates Britax's patented one-step 'Click And Go' system for this purpose.
For some reason Britax have made this model with a fixed sun-shade which on hot days will not be sufficient to cover your child from the sun. This may well be something the manufacturer will look at modifying in the future as it is a small but unnecessary failing for such an otherwise very well designed pushchair. If you are considering this model for your child we would recommend purchasing an add-on sun shield for protecting your child fully on extra sunny days.
To improve the quality of the ride for your child, Britax have designed this model to incorporate a very nice suspension system that covers all four wheels. This is exceptionally robust and we cannot see any flaws in the making when used repeatedly off-road. Whilst the all-round suspension system effectively adds greater stability when maneuvering and traversing most off-road terrain, it also enhances the softness of the ride for your child inside the pushchair well!
While this pushchair has been designed exceptionally well, we feel the height of the foot rest below the main seat could do with being adjustable, as it may become too high for some larger three or four year old children with longer leg space requirements.
The optional Companion carry cot that's recommended for the Vigour and newborn babies is certainly very comfortable and very well padded. It'll protect your infant when out and about both in the car as a car seat, carried by hand, or when clipped on to the frame of the Vigour. It has understandably received a number of rewards for being one of the most durable, cozy and safe choices in car seat/travel systems for new babies. For this reason and more the Britax Companion car seat gets our high recommendation for new parents who're considering this pushchair.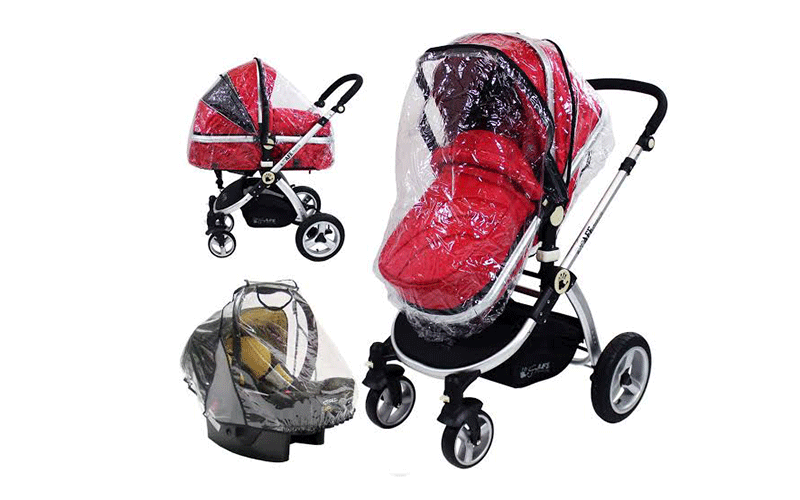 Ease of Use & Maneuverability
The Vigour is an all-round pushchair for parents who want almost everything in one. Whilst being suitable for all ages, this pushchair is also very impressively designed and easily distinguishable from the rest – not just by it's looks – but also by it's benefits.
Firstly, the Vigour is built to be a travel system, and comes with many of the features that most well-equipped pram/pushchairs come with these days. Despite this, the device only weighs in at 11.7 kilograms which is quite impressive. While this may not be a total lightweight when compared to the wide world of prams and buggies, it certainly keeps the weight down when compared to many other popular pushchair systems in it's class.
The Vigour does not quite fold completely "flat" as the name 'flat-folding' might suggest, but it does get pretty close. It is an easy pushchair to fold one-handed, and is held together nicely with an 'automatic folding lock' that keeps it from unfolding. Being a one-hand operation enables you to simultaneously handle another child or even a car seat or bags whilst opening out the pushchair. Unlike some other models, the method the Vigour uses for folding is very simple and logical which makes for smooth packing and unpacking between usage. Upon releasing the folding lock the pushchair almost unfolds itself- with an audible click being heard each time the unfolded frame locks back into position.
With everything the Vigour offers, it's not going to be the smallest option available to parents, and may be a tight fit for vehicles that are limited in luggage space. Having said this, the pushchair comes apart easily for fitting into smaller spaces- both the main seat and car seat options are fully removable, and so are the large wheels. The wheels actually snap off and on again in an instant, which is very handy. This ability to be broken down makes the pushchair much less bulky, but also means slightly more assembly and dis assembly when in transit.
There is also the handy ability to fold the pushchair down to not-quite flat when the car seat is still attached to the pushchair frame, and this is sure to be welcomed by many parents. The Companion car seat is very easy to remove from the frame entirely however, should you have both hands available to use.
When folded, this pushchair measures about 33cm high, by 87cm long, by 62cm deep which will tend to take up most of the space inside the boot of your average sedan. If you are frequently catching air and public transport then the Britax Vigour may not be your best convenience option. However, if you can overlook the need for the most super-light and compact, then the Vigour sure is still very attractive.
As already noted, the Vigour's main seat is fully removable and also interchangeable with some great car seat options like the Britax Companion car seat. The design allows you to position your baby or toddler so that they're either facing you or facing away from you, and this is something we've found very nice to have. The 'Click & Go' arrangement that Britax use with their travel systems is also included in this model, and it really is just as easy as one click.
When it comes to getting a good pushchair that both mum AND dad can feel comfortable pushing, it's important to get handlebars that will adjust fully. Many pushchairs offer limited handle height adjustment, but the Vigour is well suited to couples who have some variance in height. This is a real plus for taller parents, as it means they can take control of the pushchair without the need to constantly slouch and in turn strain their body. Britax have made the handlebar very comfortable to grab and hold when maneuvering the pushchair too, so needless to say, we think you'll be very happy with the all-round great feel of the handlebar.
Using the brakes to lock off all four wheels is nice and easy with the two single-touch foot levers at the rear. It simply takes a light foot placed on either one of the two brake levers to lock the pushchair down when on uneven ground. The device remains locked-down safely until the foot brake is released again.
The pushchair comes with easy snap-locking front swivel wheels for tracking over off-road terrain or for navigating through shops with delicate precision. Handling this pushchair is a breeze and it can even be driven with just the light touch of a few fingers. This model has a great turning circle for fast changes in direction when on the go, surprisingly being almost capable of turning 360 degrees on the spot! You do need to make sure your front wheels are unlocked properly before expecting great tracking and turning however, but this is not difficult to do (although something some people may not be aware of when trying it out.) Needless to say, we feel that the Vigour handles superbly for what it is.
The wheels are well made, and the back wheels are particularly wide which allows for an excellent measure of stability when maneuvering both off-road and on. The large wheels may make some tight spaces in clothing shops and the like a little more cramped to get the pushchair through, but all-in-all it will fit through small shops and restaurant environments very well. It takes curbs, bumps and steps very impressively, which can be attributed to that wide stance and elegant input from the four-wheel suspension.
Some of the additional features that accompany your purchase of the Vigour are a tight-fitting rain cover, a mesh shopping basket for under the seat, a detachable and washable apron, a fully removable grab bar with padding that also comes off for washing, and the showerproof hood which is also able to be removed.
The underneath basket is a reasonable size which can take at least a few regular baby and/or hand-bags, but still could have been made bigger we feel (when is a shopping basket ever big enough to carry everything!?) The basket is particularly nice and easy to access in each pushchair mode, without any awkward straining required. In addition to the main basket, there is a very handy pouch which is hidden in the back of the seat for storing more valuable items like a phone, keys, money and cards.
Whilst the grab bar is effective and safe when in place, it does not have a swinging action for use when placing a child in and out of the chair. This would be ideal as other models do offer this feature for faster access- however it is still able to be removed completely which is always an option.
While there are some very helpful things included in the Vigour package, it does have less than some other high-end brands sometimes offer. Extras like cup or bottle holders, pannier bags and the like are not available with the Vigour, but there are some great alternatives to be found for use with it which are quite effective.
Finally, when buying a carry cot for this pushchair you will also receive removable covers with the mattress that comes with the unit, so the Britax products have clearly been well thought through.
Quality & Durability
The Britax Vigour is a pushchair that's been built to last. It's aerodynamic aluminium chassis certainly keeps the weight right down, and is definitely the foundation of a very sturdy and robust design. There is little which can be faulted about the quality that Britax is offering here, and we believe that it will actually endure better than some of it's class contenders such as the Bugaboo range.
Being the most heavily worn part of the pushchair, the wheels are considered to be a very important point to consider for durability. The Vigour has had it's problems in the past with it's early releases unfortunately. Many of the earlier models were using air-filled tyres that wore-out rather quickly, and so Britax found themselves with some disgruntled customers. Since then, Britax have been quick to issue replacements and then eventually replace all new models with a more durable wheel solution.
Now, every Vigour pushchair comes equipped with a puncture proof solid material which has no need for inflation and does not deteriorate the way an air-filled tube does. This change from inflatable wheels does lower the shock absorbency of the wheels a bit, but what's lost here is certainly made up for in the exceptional suspension above each wheel. Britax clearly made the right decision here by eliminating the problems associated with the old wheels and have turned a delightful all-round pushchair into a real award winner!
Safety Features
When it comes to the safety of a pushchair it can be hard to really tell where the real issues might be until you get it home and on the road. However, after assessing the Vigour for it's over-all safety features and downfalls, we found no nasty surprises.
As you may already know, there are two versions of the Vigour: the Britax Vigour 3- which is the three-wheeler version, and the Britax Vigour 4- our more preferred option which sports four large wheels. Having the four wheel version is preferred in most cases because it ensures better stability of the pushchair, especially on uneven surfaces or when your toddler is growing older and restless! The back wheels are also very thick which is good for all terrain activity, and their enhanced girth actually adds to the overall stability of the Vigour.
Other great safety features that are found on this pushchair include a five-point safety harness to keep your child put comfortably, reflective piping for high- yet stylish- visibility, and a park brake system which is easily operated with one foot. The brakes actually function on all four wheels, both front and back at once, which is just another one of the further nice benefits included in this model.
One thing that could lose a fraction of a point for this travel system is the tendency for the smaller front wheels to slot into large cracks in the pavements etc. This is however something that poses a very small problem to every pushchair which has these small wheels at the front, such as the Bugaboo Bee.
Although it got a mention here, we don't feel that it's a very serious issue as most people quickly get used to simply avoiding large cracks, or lifting the front wheels over larger obstacles all-together.
This pushchair now comes with a rain cover supplied. It also uses Britax's popular 'Click & Go' system to accommodate an excellent range of optional attachments such as the Britax 'Baby Safe', 'Baby Safe Plus', "Baby Safe Plus-SHR, 'Baby Safe Sleeper' and 'Carrycot' travel system options.
In addition to these few accessorizing options from Britax, it may be useful for you to consider getting some more generically branded attachments of things such as a cup holder and key or mobile phone compartments. We know BOB actually have some good solutions for those looking at extras attachments, and these items can usually be obtained quite cheaply online.
As the sun canopy that comes with the Vigour is not so effective at keeping the sun out of your child's face fully, it is also advisable to purchase a cheap generic sunshade for using with the Vigour on very bright and sunny days.
Looks & Popularity
Quite simply, the Vigour is certainly a pushchair which skillfully combines looks with brains. It is a very attractive model to take out with you onto the streets.
If you do choose this pushchair you can sure expect to be noticed. It looks much more pricey than it actually is, and it also includes many of the eye catching lines that other very popular brands like Bugaboo have used, whilst at the same time carving it's own reputation for innovative style and design.
This is a trendy stroller that certainly turns heads and makes a statement about where baby accessories are due to be headed in the 21st century. If you're one to consider classy looks as an important deciding factor when looking for that perfect pushchair, then this should certainly be one of those on your short list!
All current retailers listed below offer:
Shipping throughout the UK
Full safe & secure online ordering
Good reputation for trust & reliability
Genuine and reputable returns policies
Shipping is for standard working days
Additional warranty available on purchase
Customer Service & Warranty
Britax have only given a 6 month manufacturer's warranty with the Vigour, and this is shorter than what some other big brands are providing. Despite this, it may be possible to find a special extended warranty being offered through some of the larger online retailers, and it is worth considering these if you do find one. It's not like you're likely to need it, but a longer warranty can at times come in handy when you least expected, as you are probably already aware!
Even if you do find any issues with a pushchair made by Britax, it is a pleasure to say that they are one company that places high importance on giving good customer service. They are quite well recognised for their focus on customer satisfaction and so it is something we feel well makes up for their shorter warranty period on this.
summary & Conclusion
When we looked over the Vigour in full, it was a hard pushchair to find fault with in itself. The frame is sturdy, lightweight and durable, the comfort and quality of the seat and fabrics are exceptional for what they're made for, and any recurring problems that have resulted since it's release have been done away with through further improved design or quickly dealt with through impressive customer service.
Though we have compared this pushchair with some of the benefits that Bugaboo offer, it is quite different in terms of price. Where the range from Bugaboo are considered pricey by some, Britax have managed to keep the price right down on this pushchair, whilst including the majority of what a parent could want in a pushchair.
We feel the Vigour is such good value for money because of the great durability and usability it offers. Both the main pushchair and the matching Companion car seat are very well and thoughtfully (except for the minor aspects already discussed) designed and constructed.
Admittedly the Vigour does not come with a cup-holder, nor some of the other small accessories that are nice to have on your pushchair. However, for the price that this pushchair retails for today (especially online), it is without a doubt an incredible buy which is going to suit most parents needs and wants exceptionally well.
There are very few pram/pushchairs available today that can cover just about every area of test, but the Britax Vigour is certainly one of those models that continues to delight the majority of it's users. In addition to the thoughtful design and broad set of great features, the Vigour has a look that really turns heads wherever it goes, and will no doubt continue increasingly do so for some years to come. Admittedly it's a little disappointing to have few accessories available for this pushchair, but we're sure that down the track some further options will become available for use with it.
Having considered all the important aspects which can make or break a pushchair, it's now clear that the Vigour is one very tempting option for parents in the UK. While it's not the first choice for those who fly frequently, this model is probably one of the best all-round prams/pushchairs suited to the majority of parents and their children. For these great reasons we here at 'Baby Pushchairs Reviewed' are happy to give the Britax Vigour our highest recommendation handed out to-date.