Now that you have found yourself in the market for a new pushchair, it is time to really make sure that you are looking over all of your options. Throughout the years you may have passed by pushchairs and buggies before and thought about which ones were cute and which ones you would buy. But now that you have a child of your own coming and you are seriously in the market for a good pushchair, it is more about the comfort, safety, and ease of use then how cute it is.
If you are looking for something that is going to give you your money's worth then make sure you seriously consider the Maclaren Techno XT. Since this is one of the few prams and pushchairs that is suitable for most people's circumstances, it is no wonder that so many are picking up one for their children. Maclaren is after all one of the top pushchairs brands available, but what sets it apart from many of the others? Along with being an improved version of the old out-dated types of the pushchair, the Maclaren Techno XT is:
Able to fit children from newborn age to four years of age
Weight capacity is up to 15 kg or 33 lbs and 110 cm or 43 inches tall
Seat measures 35 cm (13.8 in) wide, 38 cm (15 in) deep, 47 cm (18.5 in) high
UV treated hood with see-through plastic window
Hard rubber wheels with plenty of added safety features
Flip-down sun visor for excellent child UV protection
A Brief Look at the Highlights of the Techno XT
When it comes to purchasing something so important as a pushchair for your child, it is vital to make sure that you truly understand everything a particular model has to offer you. Without the right information, you will not be able to make a truly educated decision on which brand or model you should go with. The Maclaren Techno XT is one model that you will without a doubt jump at the chance of buying once you've discovered it's a full set of features.
One of the nicest things about the Maclaren Techno XT is that it folds neatly into one piece. This means that you will not have a problem storing it in the back of your vehicle or anywhere in your home when it is not in use. The seating is comfortable for the child, which all parents know goes a long way towards making sure that the child stays happy and comfortable. And with the four-position recline, you will be able to make any child, whether a newborn or a four-year-old, happy and comfortable in a variety of weather conditions.
The deep double-fold canopy, designed for sun protection, is a must-have along with the rain canopy. So no matter what weather you find yourself in, your child will be able to ride in comfort and style all while being protected from the harsh weather. Those who also want to explore the world with their child will find that the Maclaren Techno XT handles all sorts of various terrains with ease. This is of course due to the four-wheeled suspension which means it can handle more rough terrain than your other typical lightweight pushchairs.
The brakes are also very easy to use which means that you never have to worry about having to fight with the pushchair just to make sure that you can let go for a second without your child rolling away. For those looking to push around newborns, it is also nice to see that the Maclaren Techno XT comes with a padded foot muff, a rain cover, and head support for the little ones. There is also a comfort pack included which includes two harness covers and a pillow. The comfort pack does come in your color of choice, which makes it nice. Buy a few extra in different colors and you will be able to change the look of your buggy within minutes.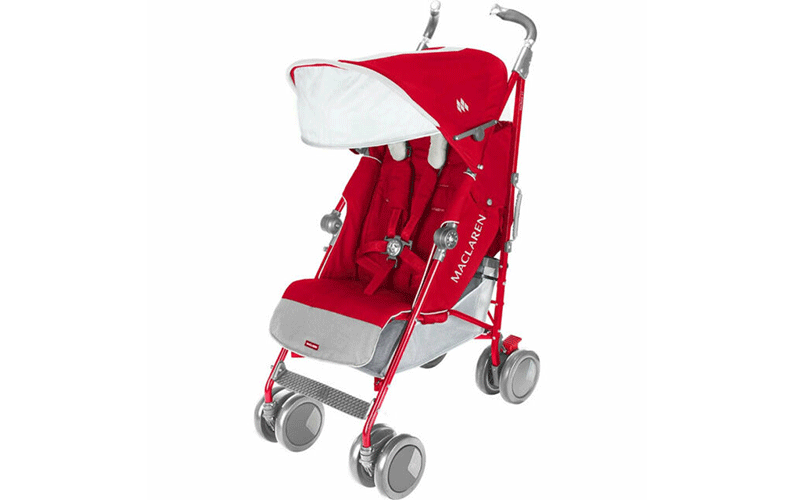 Looking for Any Negatives
Even though the child is going to ride in extreme comfort, you may not find yourself satisfied with the size of the under-seat basket as it is not designed to be loaded with very large or heavy shopping items or baggage, etc. As a side note, some owners have mentioned that the pushchair is slightly harder to push with just one hand for extended periods, as it has the two separate handle-holds. This is not a common complaint, however, as most parents prefer to push their child with both hands in order to ensure that they have full control over the safety of the pushchair.
Summary & Conclusion
With comfort for the child and protection from the harsh elements of nature, this is the stroller that is a perfect fit for the growing family. It is easy to control and able to be stored in most places within a matter of seconds. The child is comfortable and safe and you are able to get it in and out of stores with this pushchair no problems. These great features displayed by this pushchair model is something to surely celebrate, as there is no longer the need to settle for a lower grade pushchair for your child. It suits most people's needs wonderfully and has very good durability even under harsh conditions. If you are looking for one of the best all-round prams/pushchairs available on the market, then the Maclaren Techno XT is likely to be just the pushchair for you and your needs!
Maclaren Techno XT – Quick Overview
Suitability:
From birth to 4 years old.
Up to 15kg / 33lb loading capacity.
Weight:
6.8kg / 15lb (without attachments like shopping basket & sun-hood)
Dimensions:
Folded:
42.5 in. / 28 cm (H)
11 in. / 28.5 cm (W)
10.25 in. / 108 cm (D)
Opened:
43.7 in. / 111 cm (H)
19.3 in. / 49 cm (W)
31 in. / 78.5 cm (D)
Key Features:
Comes with shoulder pads & a head hugger
Lifetime Warranty (entire product has full 1 year warranty)
Reflective hubcaps on wheels for added safety
Including customised luggage tag
Extending leg rest
Water resistant hood
Rain-cover
5 point child safety harness
Removable seat for washing
Compact umbrella folding with handy carry strap
Highly durable lightweight aluminium frame
Medium sized shopping basket
One-handed fast folding capability
Seating:
Seat size:
18 in. / 45.5 cm (H)
9in. / 23 cm (D)
Capacity for 1 infant up to about 15 kg / 33lb.
Handles:
Ergonomically optimised handles.
Height easily adjusts.
Wheels:
16.5cm / 6.5in.
Front swiveling wheels (lockable).
Linked foot-operation parking brakes.
Suspension to the front & rear wheels.